Tim ?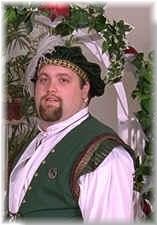 ---
Tim was born in the "Secret City" (a.k.a. Oak Ridge) somewhere in east Tennessee. He moved to Maryland after his father was relocated at Andrews Air Force Base, home to Air Force 1. He lived on Andrews until high school, when his family relocated to Camp Springs/Temple Hills. Here, he would become lifetime friends with the other guys in the car. Tim has the uncanny ability of getting hired for every job he has ever applied for, which has led him to hold a myriad of interesting jobs. He has worked as a "personal body guard" to some of the biggest rock stars of the 80's when he worked for American Control Inc. (ACI). He worked with the Developmentally Disabled for many years before moving on to work as a Loss Prevention/Inventory Manager for Best Buy; there, he also worked with the mentally challenged. Currently, Tim works for the Howard County Police as a Community Liaison Officer.
Tim married his longtime girlfriend in November 1997. They had a "Renaissance" themed wedding. The wedding was officiated by longtime Maryland "Renaissance Festival" regular "Cardinal Sinnius Vice". Quite the merry gathering.
In 2002, Tim lost 80% of his sight to complications from diabetes.
Tim enjoys bowling; listening to and watching anything Sci-Fi, especially Star Trek; playing RPG's; cooking; kite flying; and loves to take his Seeing Eye Dog Wyatt for long walks.